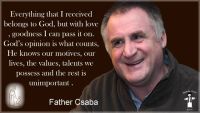 People can often invent all sorts of problems , wickedness and they can mull over these for days, weeks on end ,instead of tackling down, setting about taking on other's problems , worries as their own . By helping others I simply  do not even notice whether I have worries , problems of my own .
Father Csaba.
translated by dr k.e.
One of the manifestation of love , is try to raise the other one above us and serve them .
It is good to be, to exist !
Father Csaba 
translated by dr k.e.
A Christian's conduct has to be the same like our Lord Jesus Christ's , who on the cross is not asking for the "whys" , however , with enormous humbleness, even with His last breath is saying : " My Father into Your hands I commit my soul ."
Father Csaba
translated by dr k.e.
What I do as  my "revenge" in face of human foolishness is "I love, teach, bring up the children" so there maybe less ignorance on this Earth.
Father Csaba 
translated by dr k.e.
It is so easy to love the faceless nation, but as soon as our dearly beloved nation will have personal traits , we come to a holt. I love my people, if when I cleanse the face of my brother living beside me humbly, with goodness removing the filth,  hatred, anger, fear, ignorance so that  their cleansed features, may be brightened by the godchild-like face resounding with the anthem of love .
Father Csaba
translated by dr k.e.
We Christians believe that God is our Heavenly Father who loves us infinitely and who sent His beloved Son , to take hold of our hand and teach us the commandment of Love, that it is much better to live in peace and love then to fight, to wage a war. 
Father Csaba
translated by dr k.e.
Dare to do what God asks of you, dare to be free to love ! Do not look at what has a fair chance or what has no chance whatever, however look at Love incarnate asks of you -and quite certainly that your steps will be accompanied by miracles. 
Father Csaba ,
translated by dr k.e.
In those areas of the world where you are faced with deep human misery, poverty, do not do anything. Do not organize, do not mould this world. Here we are not  forming, moulding but we are being formed, moulded, we are not teaching but we are taught. We are not giving however we are receiving. You have to be enlightened first so that you yourself can be emitting the light.  What is important that your walls, your limitations crumble away  . Let your guard down. Let into your life all that , that surrounds you .
Father Csaba 
translated by dr k.e.
Only after our death looking back from the afterlife will we able to understand  the great correlations in our lives ! They say, that life is like a big Persian rug. From the bottom we can only see the reverse side and there , there is nothing else then a lot of meaningless knots . But if we look at it from above then we'll see that exquisite patterns, forms, configurations are rippling across the carpet.
Father Csaba
translated by dr k.e.
God does not make up our mind for us- He persuades us to goodness , beauty speaks to us through our conscience , but the choice is ours. The sun is visible from all rooftops , our free will is wonderful.
Father Csaba ,
translated by dr k.e.